Description
5 ORNAMENTAL IRON BENDERS IN ONE!
45 BEND PROGRAMS!
1,000'S OF STANDARD AND SPECIAL TOOLINGS!
The new model Eurekamatic CE/CN ornamental iron bender is completely run and aided by an incorporated microprocessor, which allows total precision and efficiency of the curving system. The display shows the desired angle of curvature and constantly informs the operator about the position and the movements of the curving axis.
The incorporated software allows the easy storage of four different angles of curvature. The machine can work both manually and automatically, thus reducing working times.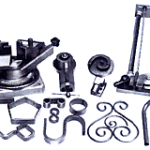 Manual Ornamental Benders
Eureka Base
The Eureka base is makes four ornamental iron bending machines in one: Use the Eureka base with any one of four separate attachments 1.angle bender, 2. circle bender, 3. spiral bender, 4. tube bender
Call the Ocean Machinery sales team TODAY at (954) 956-3131 or Toll Free 1 (800) 286-3624 or fill out our online info request form for more information on the Ornamental Benders Ornamental Iron Benders.