The Ocean Blaster shot blasting system is designed specifically for fabricators and others who need to de-scale and remove corrosion from steel profiles of all types in preparation for further processing, welding or painting. Consider the following questions and determine if this machine fits your needs:
Do you clean structural steel profiles manually, by sand blasting or by sending it out to a sub-contractor?
Do you regularly use grinders, sandpaper, scrapers or other manual methods to clean?
Do you use a manual sand blasting nozzle that is too slow, requires intensive labor and leaves you with mixed results and a huge pile of sand and debris?
Is your current method of cleaning too costly to compete with the bigger fabricating shops and do you lose out on those profitable big jobs?
Do you feel your competitors are throwing out insanely low numbers to land the work?
Do you have to turn away jobs because you do not offer shot blasting services?
Do some General Contractors skip your company when sending out the bids because you cannot process a structural job that requires shot blasting?
Have you already considered acquiring a shot blasting system but decided against it because it is just too big or too tall to fit in your shop?
Would you like to have a higher quality finished product?
Would you like to have a cleaner shop environment and pre-cleaned steel that makes it easier to work with and improves overall morale in the workshop?
Are you finding that you are struggling to make any money on the jobs you land – those jobs that you bid low enough to get leave, no you profit at all?
Do you want to make more PROFIT?
If you answered YES to any of the questions above you are a prime candidate for the outstanding Ocean Blaster compact, self-contained shot blasting system, built exclusively for us by Agtos, an industry-leading German manufacturer of all types of blasting equipment.
Here are some of the more commonly asked questions
What is the target market for this machine?
The Blaster shot blasting system is designed for customers who require a more sophisticated method than just manual cleaning in preparation for further processing or painting.
What type of abrasive media does it use?
The Blaster is designed to use round steel shot. The shot is recycled inside the system and gets smaller and smaller during the blasting process, until it is completely consumed. Approximately two tons are required for start-up, and approximately 20 pounds are consumed per blasting hour. Replenishment is easily done as needed.
What utilities are needed to run the Blaster?
The electrical system runs on three-phase input and a transformer will be provided for your supply voltage if required. Clean and dry compressed air supply is also needed.
What does it cost to operate?
The highly efficient turbines require much less power that competitor's shot blast machines. Including abrasive consumption, power consumption and maintenance, the total operating cost averages around $20 per hour. When comparing this to your current methods, keep in mind that the Blaster is at least 4 to 5 times as productive as manual cleaning and only one operator is required to load and run the machine while it is working. Labor costs are much lower, plus you will have a huge amount of extra capacity for cleaning.
Are there any special operator skills required for the Ocean Blaster shot blasting machine?
No, once the machine is installed and adjusted by our technician, running the machine consists of merely switching it on and setting the speed dial for the desired surface finish. Maintenance is simple too.
The Ocean Blaster Shot Blasting System is not a CNC machine and no programming is necessary to operate it. The programmable logic controller (PLC) parameters are preset at the factory and there should be no need make adjustments.
The Ocean Blaster shot blast machine is a simple machine to operate. The steel is driven towards the Blaster by powered roller conveyors. When the steel reaches the Blaster, an optical sensor detects the steel and switches on the machine. As soon as the machine has entered the blasting cabinet the valves delivering the shot are opened, allowing the shot to be propelled by the turbines against the steel. As the steel exits the blasting chamber high pressure air nozzles blow off all remaining shot. As the steel exits the Blaster the machine is automatically switched off.
The only adjustment that the operator needs to make is determine the level of surface cleanliness required and then adjust the conveyor speed on the dial. Apart from this one adjustment the entire machine performs operator free, saving the customer significant operating costs.
The Ocean Blaster Shot Blasting System is typically sold with the following options: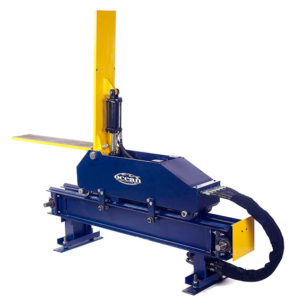 Ocean Flipper – Beam Rotator
The Ocean Flipper Beam Rotator is a simple and unique material handling component, that was originally designed to fit within the material support tables of the Ocean Avenger and other single-spindle drill lines, or other types of steel processing equipment where turning and positioning of profiles is required.
The Flipper reduces the demand on the overhead cranes, leaving this valuable resource free to move other items while the Flipper rotates beams on the Avenger. >>MORE ABOUT THE FLIPPER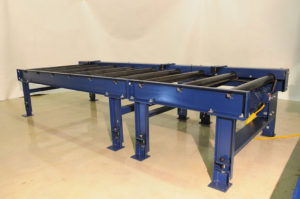 Ocean Eliminator – Material Handling System
Unnecessary material handling in structural steel destroys productivity and profitability. On average fabricators handle each beam 17-20 times from the time the raw material arrives at his shop to the time it has it on the truck ready to be shipped to site.
Removing this non-value-added component from your fabrication process must be one of your highest priorities. >>MORE ABOUT THE ELIMINATOR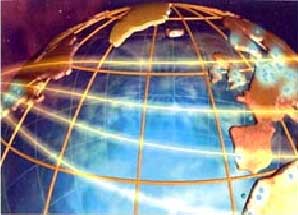 At Ocean Machinery, we have built our business and reputation based on a commitment to customer satisfaction. We know that you cannot make money if your machine is not working and we will always do our utmost to keep you running and profitable. Our dedicated, factory trained technicians have the ability to support you online, by telephone or when necessary, onsite.
Our office hours are 8am to 5pm Eastern Time. We are intimately familiar with all aspects of the machine and we welcome your technical support calls at any time during our business hours. Call Ocean Machinery Technical Service at (800) 286-3624