Ocean Machinery races up front in the 2018 SCCA Majors at Homestead Miami Speedway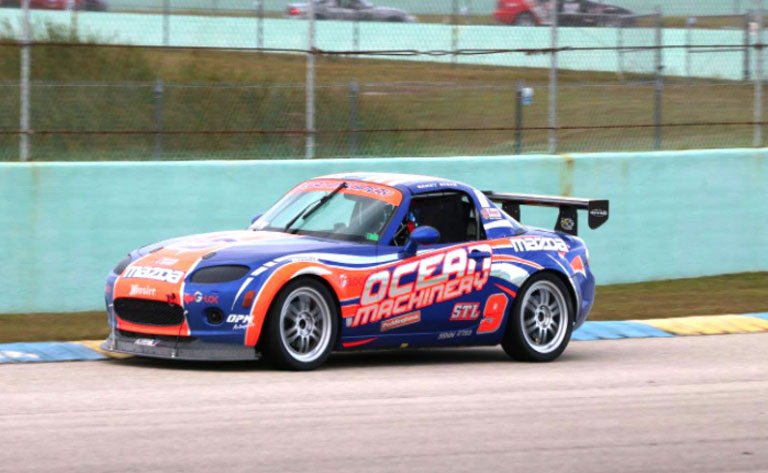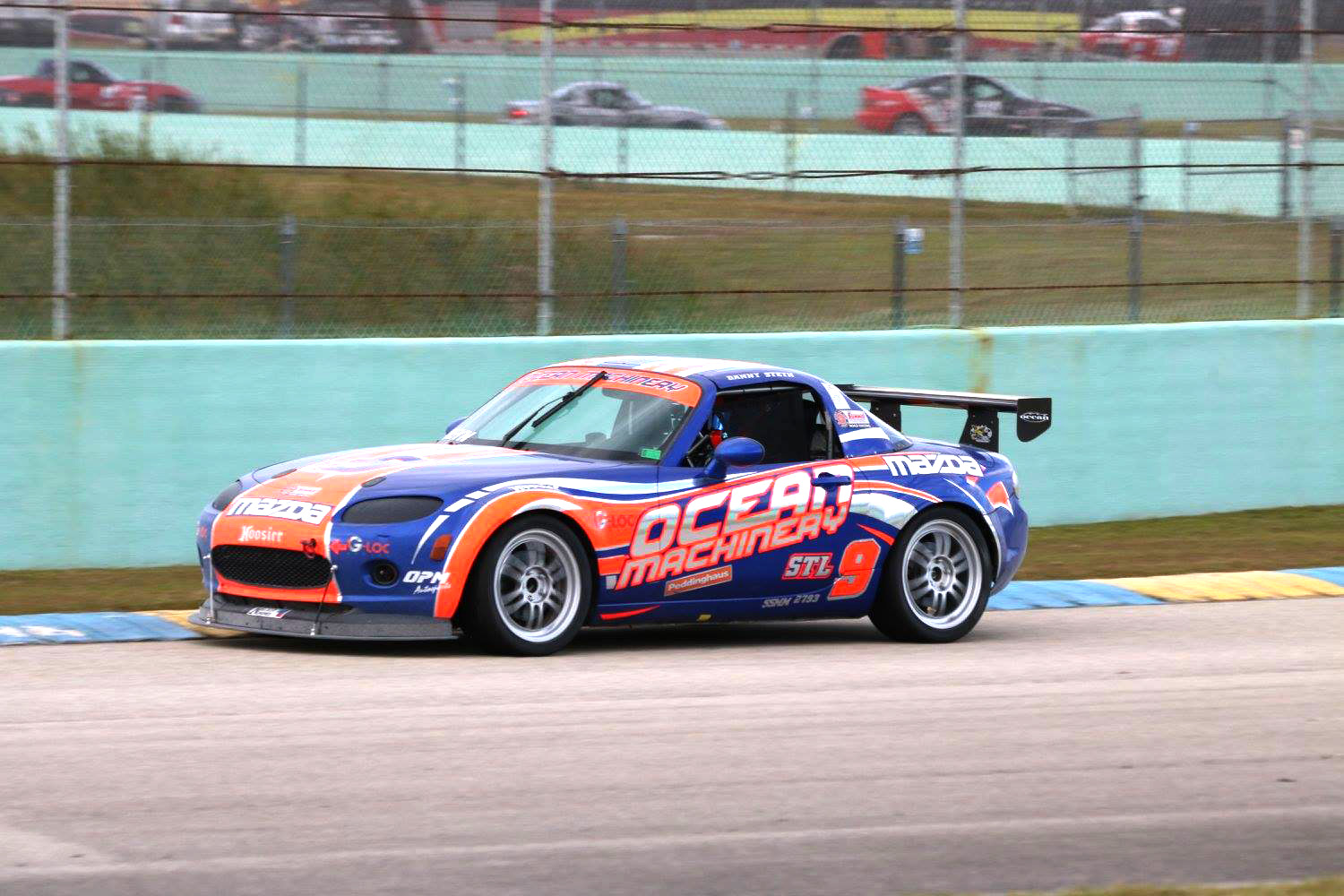 The 2018 SCCA season opened this past weekend at the Homestead Miami Speedway with the first Majors event of the year. More than 300 drivers from around the country attended to compete in more than 20 classes including both open and closed wheel cars. Ocean Machinery's VP, Danny Steyn was there to compete in two classes, Spec Miata and Super Touring Lite.
SPEC MIATA features identical Mazda Miata's from 1990 to 2005, all built to a very stringent list of specifications and balanced with weights and restrictor plates, and is considered the best closed wheel driver development class in SCCA. Spec Miata cars make around 125HP and run at around 2400lbs and since they lack huge amounts of power, they are momentum cars where maintaining maximum speed through turns and not scrubbing off speed converts to speed at the end of the straight which wins races.
Since the cars are so equal, driver's skill and strategy plays the deciding role, and at tracks like Homestead which feature long straights, bump drafting between team mates to move forward is a critical part of racing.
In the Spec Miata field of 37 drivers, Steyn qualified in 6th place and ran up front in both races, finishing 6th in Race 1, and 5th in Race 2 in the Adept Studios Spec Miata.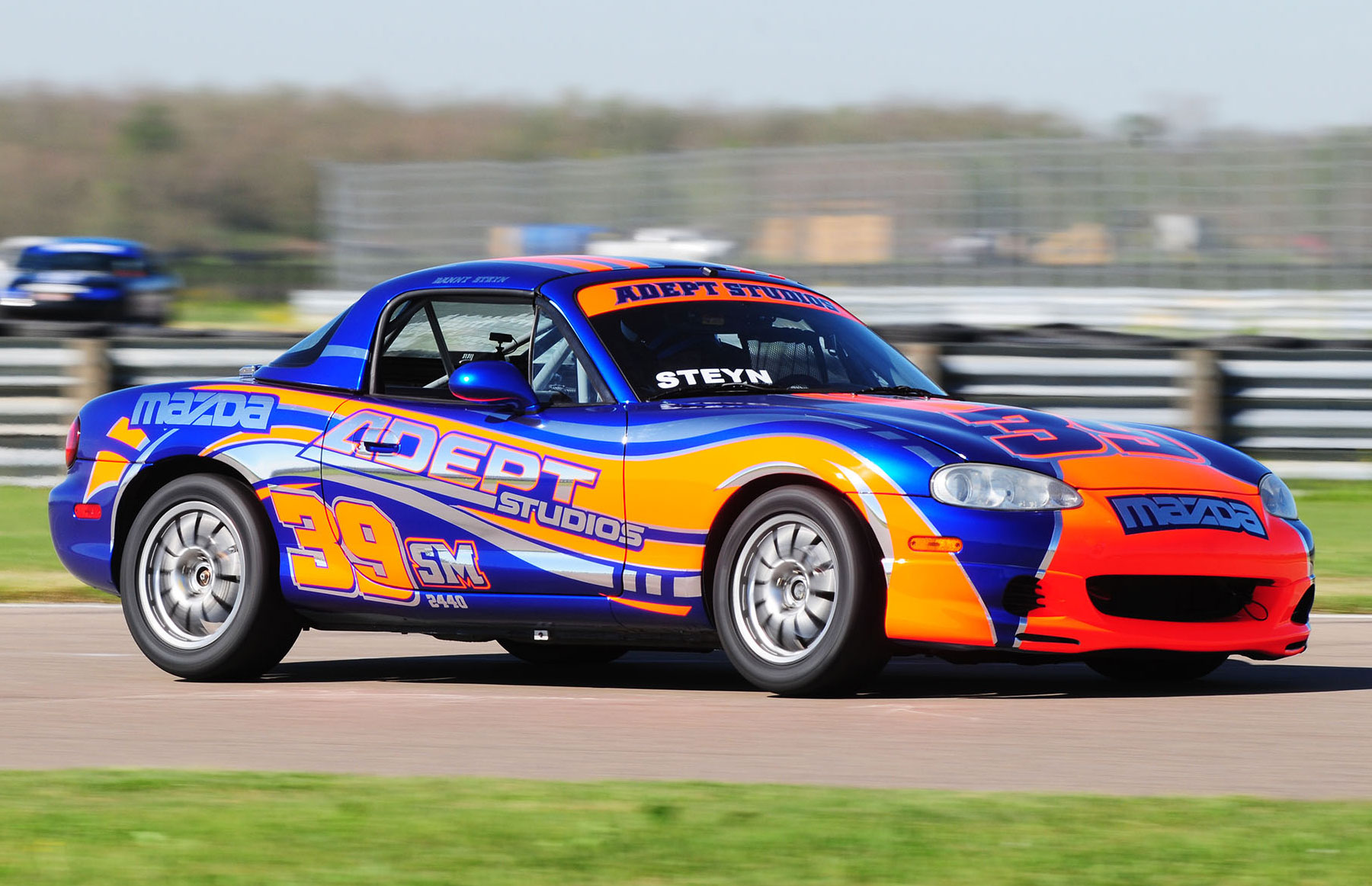 Steyn's Adept Studios Spec Miata
SUPER TOURING LITE is a more advanced class, that allows significant engine work as well as limited aerodynamic enhancements, and Ocean Machinery's Mazda MX-5 produces 210HP but races at 2750lbs, and this balances it with the other marques of cars on the track.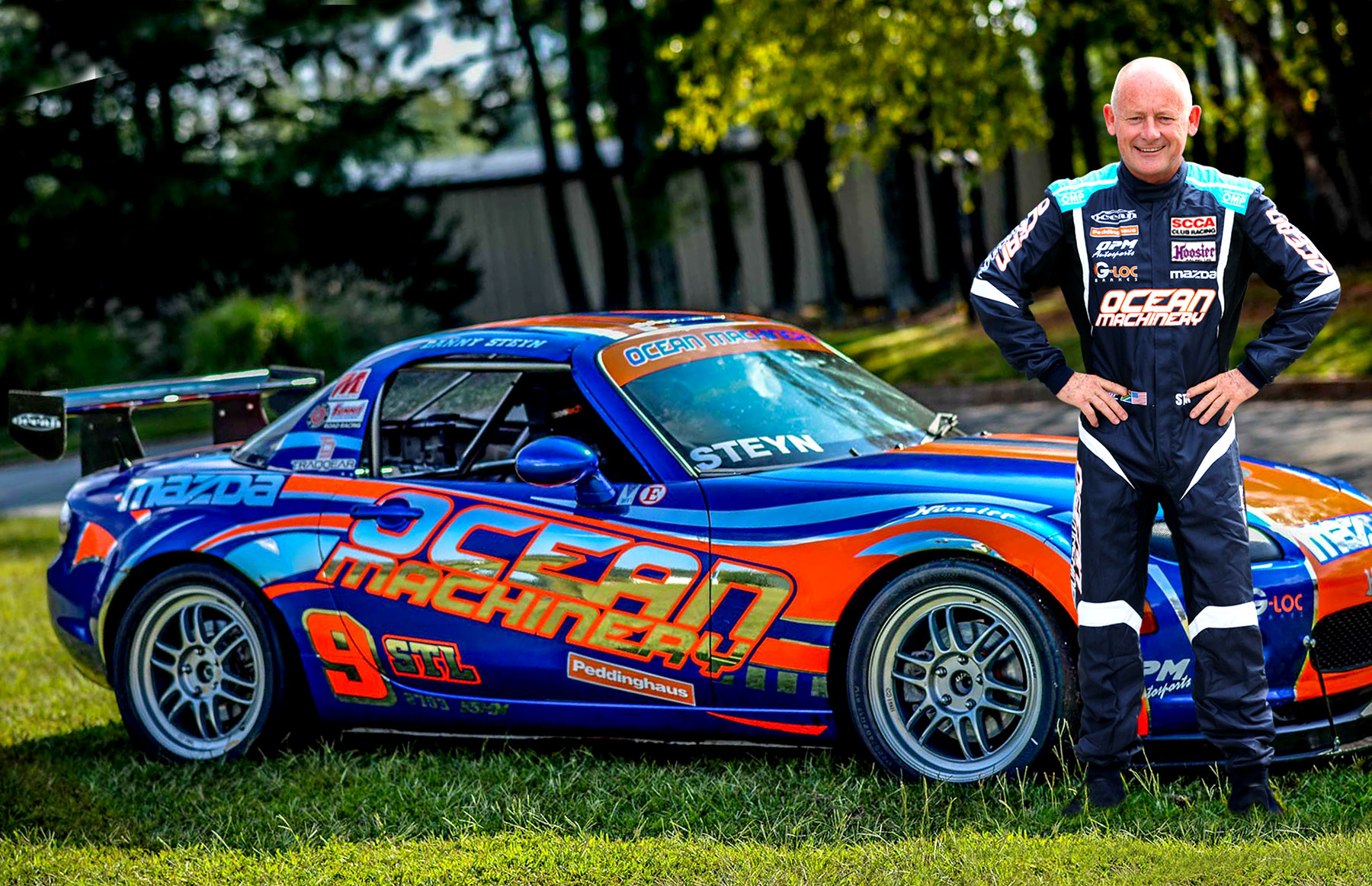 Ocean Machinery's VP, Danny Steyn with his Super Touring Lite Mazda Miata MX-5.
In the cool conditions, Steyn qualified his Ocean Machinery Mazda MX-5 on the STL pole for both races, well under his own lap record. In Race 1, Steyn raced up front and built a sizeable lead until his clutch failed and the resulting slow shifts allowed Nick Leverone to pass him on the last lap. Leverone finished 1st with Steyn 2nd. In Sunday's Race 2, Steyn pulled away to a very commanding lead before his gauges failed, and he shut everything down to protect the engine. Despite the final results, the early pace is encouraging for the 2018 season.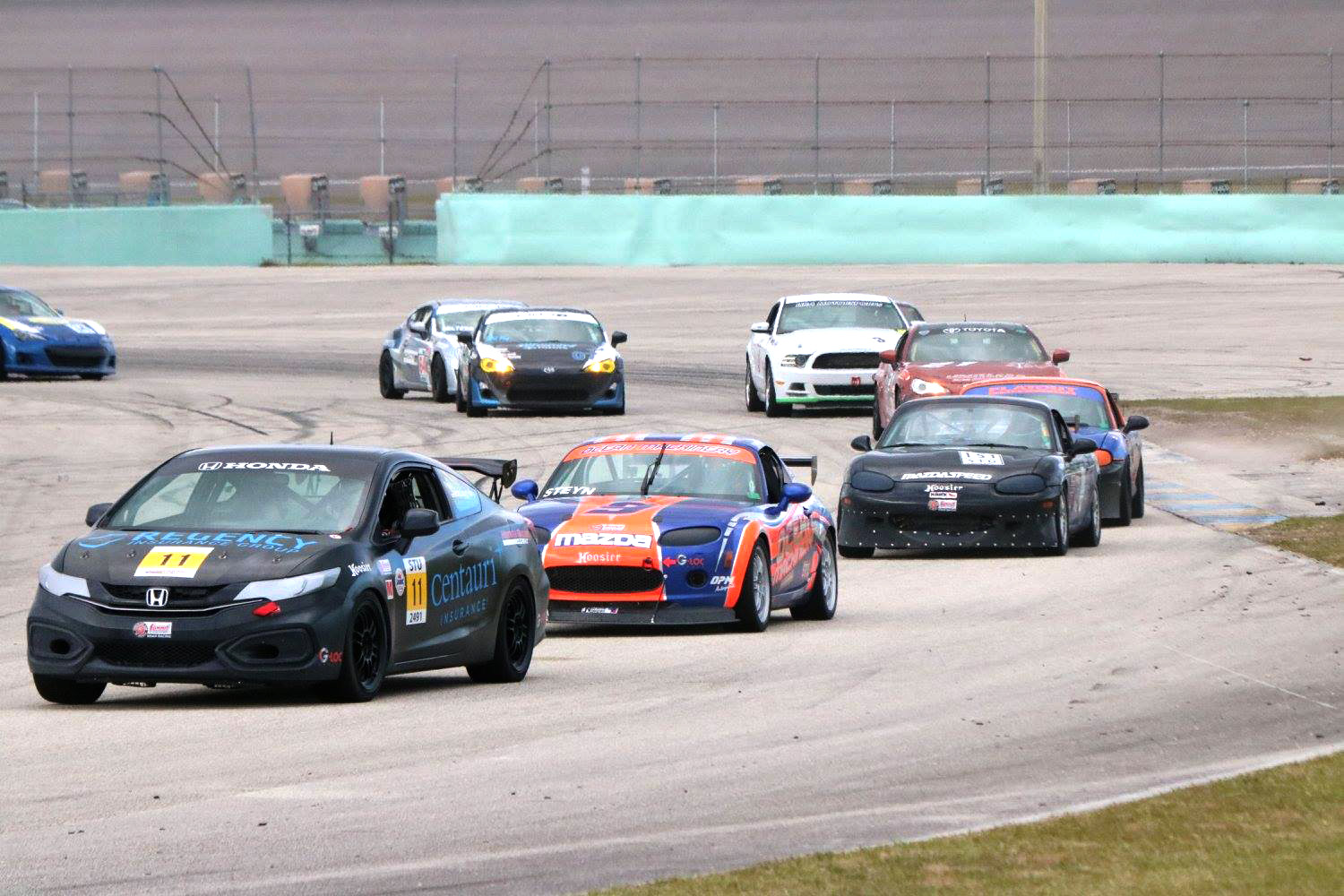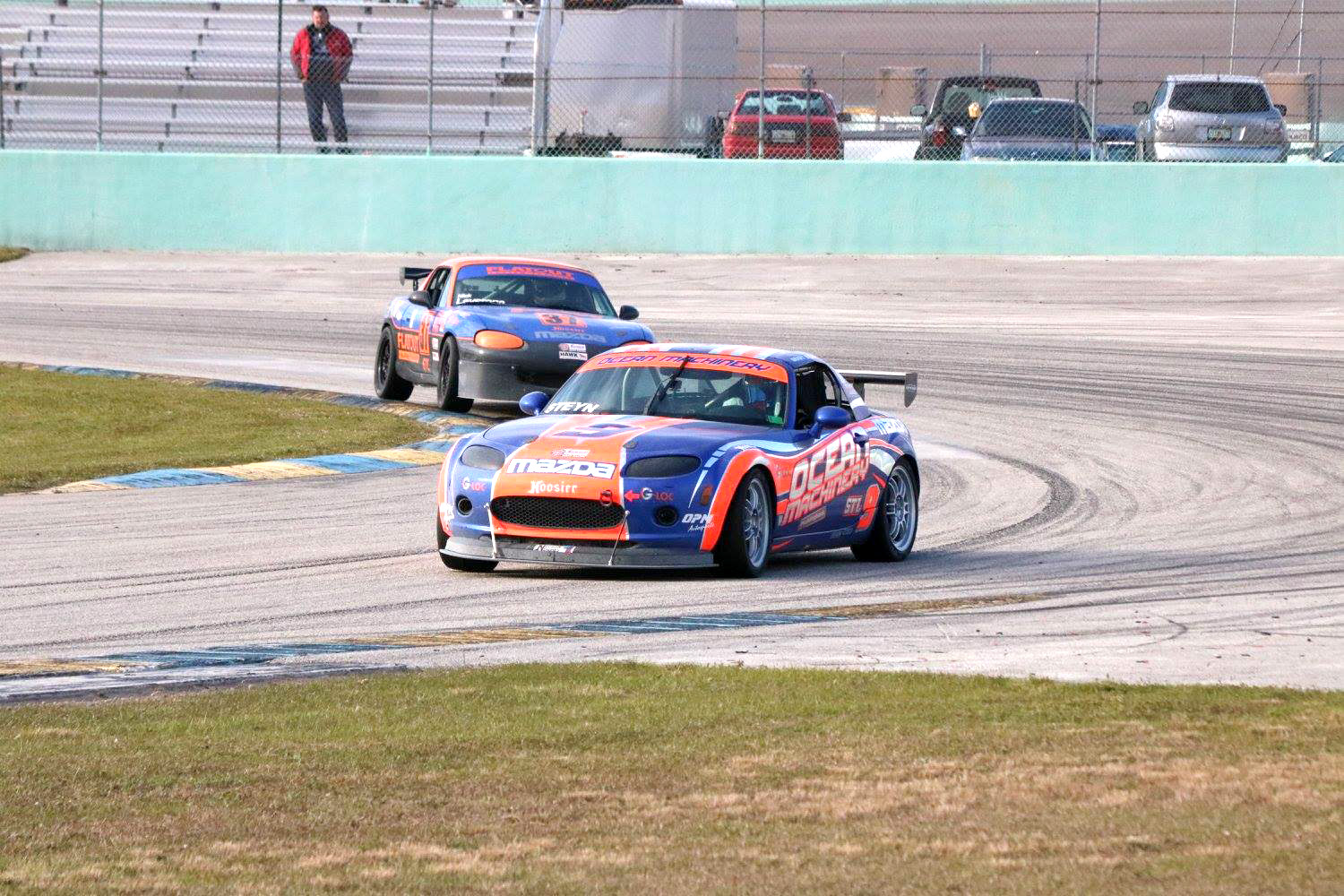 The Ocean Machinery Mazda MX5 car will be competing at the following SCCA Majors / Super Tour events in 2018:
February 2-4: Circuit of the Americas; Austin, Texas – Hoosier SCCA Super Tour
March 3-4: NOLA Motorsports Park; Avondale, Louisiana  – Hoosier SCCA Super Tour
March 17-18: Road Atlanta; Braselton, Georgia  – SCCA Majors
April 13-15: Virginia International Raceway; Alton, Virginia  – Hoosier SCCA Super Tour
June 15-17: Road America; Plymouth, Wisconsin  (June Sprints) – Hoosier SCCA Super Tour
June 22-24: Watkins Glen International; Watkins Glen, New York – Hoosier SCCA Super Tour