Programming the Ocean AvengerPLUS CNC Drill Line is very simple and intuitive even for operators with no CNC or computer experience.
We have installed more than a thousand CNC beam lines and angle lines throughout the world and we have found that the average operator, who has never before programmed a machine before, can become efficient on the machine in less than 1/2 day.
Ocean AVENGER CNC Beam Lines can be programmed in one of two ways:
1. At the machine, manually enter the profiles to be drilled.
2. Directly Import of the data to the CNC beam line directly from your CNC steel detailing files.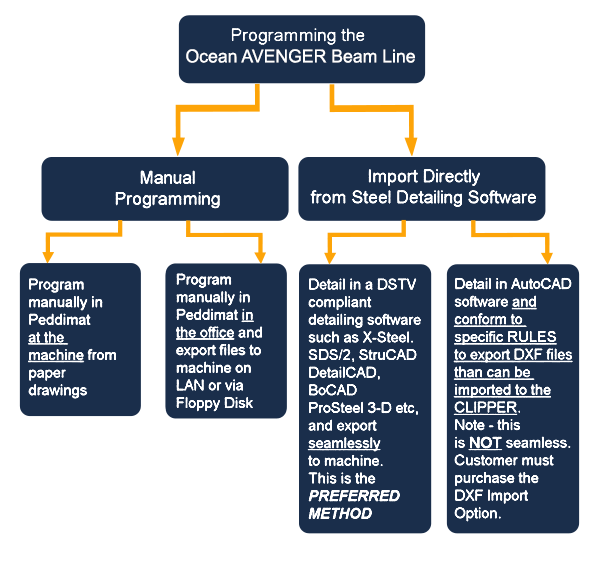 1. MANUALLY PROGRAMMING YOUR OCEAN AVENGER CNC BEAM DRILL LINE
A. MANUAL DETAILING (FROM A PAPER DRAWING)
The Ocean AVENGER can be programmed manually at the machine or in the office using the supplied Peddimat software. This software comes included with the AVENGER and can be installed on as many PCs in your office as you choose — this unlimited license is included with the purchase of your machine. It is the same software that is found on the machine itself and is the same software used on the Ocean AVENGER and all Peddinghaus CNC fabricating machinery.
Peddimat is incredibly simple and intuitive, and takes less than an hour to learn, even if you have never worked on a computer in your life.
We always train your operator how to run the machine using Peddimat as you are often going to have the situation where a customer arrives with a couple of pieces of steel that need holes or layout marks and you want to be able to produce them quickly without bothering your detailing staff who might be busy on a larger job.
2. IMPORTING STEEL DETAILING FILES DIRECTLY TO YOUR OCEAN AVENGER CNC BEAM LINE
B. IMPORTING FILES DIRECTLY FROM YOUR STEEL DETAILING SOFTWARE
It is obviously preferable to import files directly from your steel detailing software because it eliminates an unnecessary step and also eliminates possible incorrect data capture. There are two separate and distinct camps in this respect:
1. 3-D Modeling Camp
Software that falls in this camp includes X-Steel, SDS/2, Tekla Structures, StruCAD, DetailCAD, BOCAD, SteelCAD, ProSteel 3-D etc. All these 3-D modeling programs export the DSTV file that is seamlessly imported into the AVENGER.
Your detailer will then supply you a DWG / PLT / PDF file that you will use to print or plot your drawings. He will also supply you with the NC or NC1 files that you will import directly into your machine. The DSTV-Import function is standard on the Ocean AVENGER.
2. AutoCAD Camp
AutoCAD is and architectural software and works well for exporting flat 2-D pieces to plate processing machines. Where it falls short is in its ability to export files for 3-D shapes like beams, channel, angles etc. AutoCAD exports both DWG files and DXF files which are perfect for plates.
The Ocean AVENGER can import DXF files and can use them to process 3-D shapes as long as the steel is detailed according to specific rules. Some of these rules might be different to the way you are detailing at the moment and might require some adjustment. This process is not nearly as seamless as the 3-D modeling software solutions above.
Once you have created a DXF IMPORT COMPLIANT AutoCAD file, you then import it via the DXF-Import Utility (optional purchase)