The Ocean Avenger PLUS Multifunction CNC Beam Drill Line is much more than an upgrade to the Ocean Avenger.
Whereas the standard Ocean Avenger still remains the most economical way to drill holes in long steel profiles, and layout marks for welded connections, the Ocean Avenger PLUS takes the single spindle concept to a whole new level. And none of the pretenders even come close.
Not only does the Avenger PLUS Multifunction Drill Line do everything that the Avenger does, it does so much more
Table lengths of up to 80ft. While the Avenger PLUS is typically sold as a 60ft machine, we can produce Avenger tables up to 80ft long, making them ideal for processing long profiles often used in the bridge industry.
Process all profiles up to 48" in height. And when we say 48" we mean it. We can drill, mill and process any part at its full height at its full speed, both at the bottom of the table right up the top of the part. Not at reduced speeds like so many of the pretenders.
The Avenger PLUS has an 8 position tool changer. With tool change times less than 10 seconds, and the ability to hold 8 tools, even complex parts that require drilling, milling, scribing, threading and countersinking can easily be done in one highly efficient, highly profitable pass.
Automatic drilling of all holes utilizing HSS and Cobalt twist drills as well as super-fast carbide tools. This makes drilling holes in thick steel so much faster than the standard Avenger.
Automatic marking of all welded attachments. The standard Avenger puts pop marks where the welded attachments should be tacked in place, but the Avenger PLUS can actually scribe the lines as well as the weld symbols, and the part number that is to be welded.
The Avenger PLUS Multifunction CNC Beam Drill Line features 5 inches of "Sub-X" Axis travel. This means that the spindle is able to move 5" in the X direction and 48" in the Y direction while the part remains clamped.
This facilitates a whole bunch of processes not possible on the Avenger.


— Drilling multiple columns of holes without having to unclamp and re-clamp

— Milling of horizontal and vertical slots, as well as milling of mechanical pass through's. The maximum vertical slots are up to 46" or just shy of the maximum Y dimension of the part being processed, and the maximum X dimension is limited to the length of the machine (60ft) or the part being processed. Overlapping of multiple 6" slots can create a continuous slot. Milling of square holes to prevent carriage bolts from turning is simple to do on this multifunction CNC beam drill line.

— Milling a clean face onto a part – where surface finish or prep is required for mating parts

— Counter sinking – In certain industries, components require countersunk holes or beveled holes, and this is simple to do on the Avenger PLUS Multifunction Beam Line.

— Counter boring – In cases where the entire bolt head or nut has to be sunk, such as in the case of wear plates on crushers, hoppers, shot blasters and more, counter boring of holes is requires and this is simple to do with the Avenger


— Flow Drilling. Instead of having to do the difficult and time consuming process of welding a nut to the inside of a piece of RHS, consider using a flow drill to displace the material, and then thread the hole, providing a secure "nut" on the inside of the RHS.

Integrates with all 3-D steel detaling software programs, making processing as simples as FILE > IMPORT > SELECT PART > RUN PART. It doesn't get any easier than that
The Ocean Avenger PLUS Multifunction CNC Beam Drill Line is designed specifically for fabricators and general job shops that need to do more than put holes in steel profiles of all types. Consider the following questions and determine if this machine fits your needs
Do you need to drill and tap holes, make slots and cut-outs, countersink and counterbore, mill surfaces, make layout marks and part identification in a variety of steel profiles including beams, channel, angle, plate, square and round profiles, etc?
Do you regularly use a tape measure, framing square, chalk and a center punch to layout positions and then either drill the steel with a mag drill or use a punch to produce the holes, make cuts with a torch and grinder, etc.?
Are you looking for a faster, cheaper way to do it?
Are you limited by the amount of space you can dedicate to beam fabrication?
Are you limited by the amount of capital that you can invest in a beam line or beam fabricating machinery?
Is your current method of beam drilling and beam fabricating too costly to compete with the bigger fabricating shops and do you lose out on those profitable big jobs?
Do you have to turn away big jobs because you cannot physically process the larger and heavier profiles?
Do the larger General Contractors skip your company when sending out the bids because you cannot process a large structural job or beam job fast enough?
Do you struggle to find good quality fabricating labor when you land a large job, and do you have use valuable skilled labor to train your new recruits?
If your layout man skips work for a day or two, does that affect your ability to process and fabricate beams?
Are you struggling to land steel fabricating jobs in your market?
Do you feel your competitors are throwing out insanely low numbers to land the work?
Are you finding that you are struggling to make any money on the jobs you land – those jobs that you bid low enough to get leave, no you profit at all?
Do you want to make more PROFIT?
If you answered YES to any of the questions above you are a prime candidate for the outstanding Ocean Avenger PLUS Multifunction Beam Line, built by Peddinghaus USA.
Here are some of the more commonly asked questions
What is the target market for this machine?
The Avenger PLUS Multifunction CNC Beam Drill Line is designed for customers who require more sophisticated processes than just drilling holes (for which the
Avenger Forty CNC Beam Drill Line
is perfect). If you need slotting, milling, threading, countersinking etc, then the Avenger PLUS is the machine for you.
Is the Avenger PLUS an upgrade to the Avenger B / Avenger Forty machines?
Yes it is but it is designed for a completely different type of customer. If your core business is putting holes in steel for bolts, the Avenger Forty will be the best machine making you the low cost producer. But as mentioned above, if you need slotting, milling, threading, countersinking etc, then the Avenger PLUS is the machine for you.
What type of tooling is used on the Avenger PLUS multifunction machine?
The Avenger PLUS uses CAT 40 tooling and we recommend tooling from Kennametal.
Is the programming of the Avenger PLUS different from the Avenger FORTY?
The Avenger PLUS is programmed in exactly the same way the Avenger B/Forty is programmed and it will import part programs from all major 3-D steel detailing software packages that export the DSTV format. These include Tekla Structures, SDS/2, Pro Steel 3D, StruM.I.S. and many more.
Are there any different operator skills required for the Avenger PLUS?
The sophistication of the Avenger PLUS requires a better quality of operator and this is possibly the key area of separation from the original Avenger B and the new Avenger Forty, which are very simple to operate, and learning to operate them can be taught in just a few hours. When it comes to the Avenger PLUS, it is really important to select an operator who preferably has machining center experience or who can understand the relationship between tool feed rates and speeds, tool life compromises, vibration, sound etc. A good quality operator will get significantly more out of the machine than an average operator.
Programming the Ocean Avenger PLUS Multifunction CNC Drill Line is very simple and intuitive even for operators with no CNC or computer experience.
We have installed more than a thousand CNC beam lines and angle lines throughout the world and we have found that the average operator, who has never before programmed a machine before, can become efficient on the machine in less than 1/2 day.
Ocean AVENGER CNC Beam Lines can be programmed in one of two ways:
1. At the machine, manually enter the profiles to be drilled.
2. Directly Import of the data to the CNC beam line directly from your CNC steel detailing files.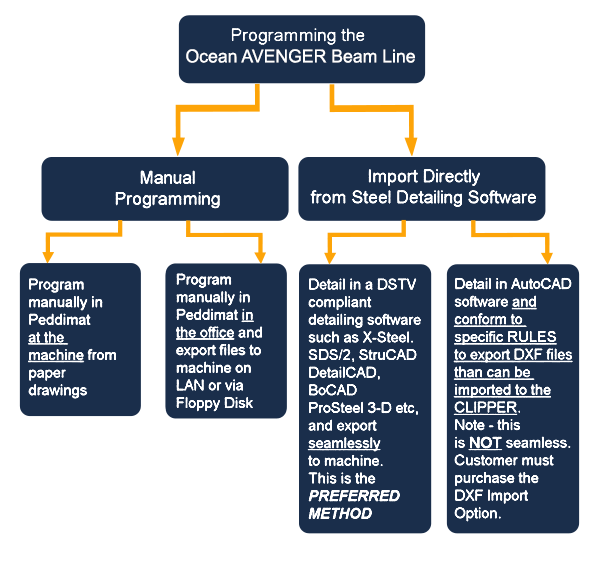 1. MANUALLY PROGRAMMING YOUR OCEAN AVENGER PLUS MULTIFUNCTION CNC BEAM DRILL LINE
A. MANUAL DETAILING (FROM A PAPER DRAWING)
The Ocean AVENGER PLUS can be programmed manually at the machine or in the office using the supplied Peddimat software. This software comes included with the AVENGER and can be installed on as many PCs in your office as you choose — this unlimited license is included with the purchase of your machine. It is the same software that is found on the machine itself and is the same software used on the Ocean AVENGER and all Peddinghaus CNC fabricating machinery.
Peddimat is incredibly simple and intuitive, and takes less than an hour to learn, even if you have never worked on a computer in your life.
We always train your operator how to run the machine using Peddimat as you are often going to have the situation where a customer arrives with a couple of pieces of steel that need holes or layout marks and you want to be able to produce them quickly without bothering your detailing staff who might be busy on a larger job.
2. IMPORTING STEEL DETAILING FILES DIRECTLY TO YOUR OCEAN AVENGER CNC BEAM LINE
B. IMPORTING FILES DIRECTLY FROM YOUR STEEL DETAILING SOFTWARE
It is obviously preferable to import files directly from your steel detailing software because it eliminates an unnecessary step and also eliminates possible incorrect data capture. There are two separate and distinct camps in this respect:
1. 3-D Modeling Camp
Software that falls in this camp includes X-Steel, SDS/2, Tekla Structures, StruCAD, DetailCAD, BOCAD, SteelCAD, ProSteel 3-D etc. All these 3-D modeling programs export the DSTV file that is seamlessly imported into the AVENGER.
Your detailer will then supply you a DWG / PLT / PDF file that you will use to print or plot your drawings. He will also supply you with the NC or NC1 files that you will import directly into your machine. The DSTV-Import function is standard on the Ocean AVENGER.
2. AutoCAD Camp
AutoCAD is and architectural software and works well for exporting flat 2-D pieces to plate processing machines. Where it falls short is in its ability to export files for 3-D shapes like beams, channel, angles etc. AutoCAD exports both DWG files and DXF files which are perfect for plates.
The Ocean AVENGER can import DXF files and can use them to process 3-D shapes as long as the steel is detailed according to specific rules. Some of these rules might be different to the way you are detailing at the moment and might require some adjustment. This process is not nearly as seamless as the 3-D modeling software solutions above.
Once you have created a DXF IMPORT COMPLIANT AutoCAD file, you then import it via the DXF-Import Utility (optional purchase)
The Ocean Avenger PLUS Multifunction CNC Beam Drill Line is typically sold with the following options: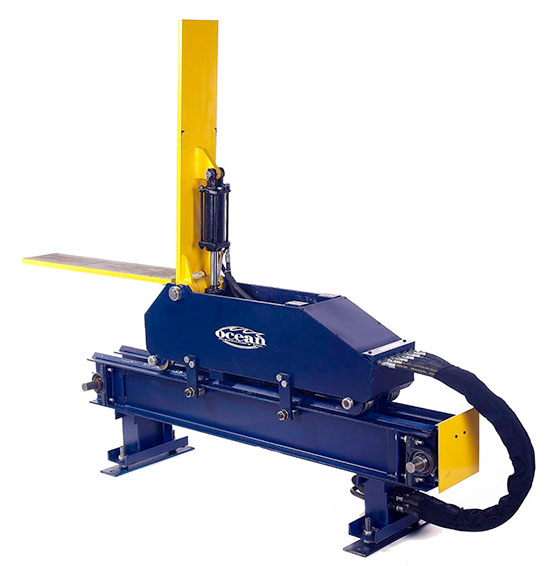 Ocean Flipper – Beam Rotator
The Ocean Flipper Beam Rotator is a simple and unique material handling component, that was originally designed to fit within the material support tables of the Ocean Avenger and other single-spindle drill lines, or other types of steel processing equipment where turning and positioning of profiles is required.
The Flipper reduces the demand on the overhead cranes, leaving this valuable resource free to move other items while the Flipper rotates beams on the Avenger. >>MORE ABOUT THE FLIPPER
Tooling
The Avenger PLUS uses standard CAT 40 tooling. With spindle speeds up to 3,000RPM it is important to use quality tooling to achieve the best results. Ocean and Peddinghaus recommend Kennametal Tooling. Ocean can handle all your tooling needs from drill bits (carbide, HSS and Cobalt), scribing (carbide), milling, threading, flow drilling and more.
Positioning Magnets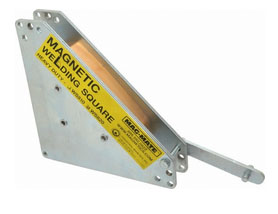 Ocean offers two sizes of positioning magnets to assist with drilling base plates and flat bar. Magnets are available in 8×8″ (200x200mm) and 4×4″ (100x100mm)
Grippers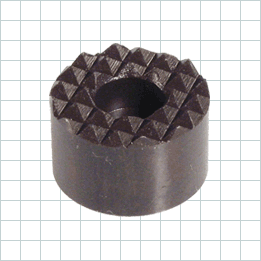 These drop-in serrated grippers help to secure base plates, flat bar, angle and other profiles that might have rounded edges that want to push away from the datum line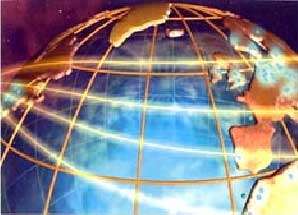 The Ocean Avenger PLUS is built exclusively for Ocean Machinery by Peddinghaus. Peddinghaus handles the installation, warranty and service work on the Ocean Avenger PLUS. And while Peddinghaus is the service provider, Ocean Machinery is always there to get involved should the need arise.
Peddinghaus's commitment to service and support is legendary and is the gold standard in the industry. Peddinghaus offers a global team of customer support representatives that are always available at the Peddinghaus 24 hour customer support center. Through state-of-the-art remote diagnostic software, readily available local field support, and the industry leading warranty, support from Peddinghaus is only a call or a click away.
24 Hour Support
To service our global clientele, Peddinghaus proudly provides our partners with 24 hour technical support. Peddinghaus' inside service staff have years of experience in the field, assembly, or factory checkout which provides them with hands-on experience with most machines. At Peddinghaus their service staff is not only available when you need them, but they maintain superior knowledge to solve questions as they arise.
Powerful Field Service Staff
Although 90% of support issues can be resolved by Peddinghaus' 24 Hour Tech Support center, an expansive network of 50+ Peddinghaus field service personnel are stationed throughout North and South America, Europe, Africa, Asia, Russia, the Middle East and Australia/New Zealand.
Remote Diagnostics
Peddinghaus inside service technicians often don't need to be at your machine to solve a problem you may have. A common internet connection is all that is needed for the Peddinghaus technician to operate your control as if he was standing with you at the machine. The Powerful Windows® based Siemens control used on Peddinghaus equipment allows for this capability, and provides superior diagnostics via Windows® based platform.
Web Camera Troubleshooting
Not every problem can be diagnosed with remote assistance. Mechanical issues or questions that require the human eye are still common. Peddinghaus machines are shipped with high definition web cameras and software; allowing Peddinghaus employees to directly experience the activity at the installation without the need to leave the office. The webcam has significant value in foreign countries or in situations where language might be a barrier to effectively communicate the issue.
The Peddinghaus Technical Support Office is open from 7am to 7pm Central Time, and is always ready to answer your questions, no matter how simple or complicated.
Call Peddinghaus Technical Service at (815) 937-3800
Toll Free (800) 786-2448
The office hours for Ocean Machinery are 8am to 5pm Eastern Time, and we are intimately familiar with all aspects of the machine and we welcome your technical support calls
Call Ocean Machinery Technical Service at (800) 286-3624