Programming the Ocean Challenger to weld your steel fabrication project is nothing short of Magic!
However, in order for the Challenger to do its magic, you will need to be detailing your project in SDS/2, Tekla Structures, Advanced Steel or any other 3D detailing program that supports IFC file transfer *.
Note that while it is possible to program the Challenger Robot manually, this is not practical. You want to be able to export the files to the machine and have the robot automatically perform its duties of scanning, verifying and welding all attachments to the member without ANY manual programming.
When you are ready to start welding your project, you begin by exporting the building model to Cortex*, via a Plugin installed in your detailing program, and the software will analyze the entire building model, review all assemblies, and generate a report that shows multiple attributes, including
Number of welding inches to be done
Number of welding inches possible
Assembly Completion percentage
Weight of assembly
Time to weld the assembly
and many more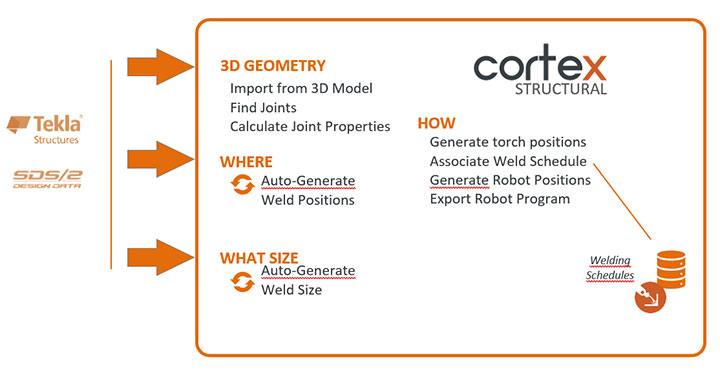 Cortex also generates the complete assembly simulation for each member that includes
scanning the profile for the pre-tacked attachments,
verifying that they are within tolerance, and the
welding path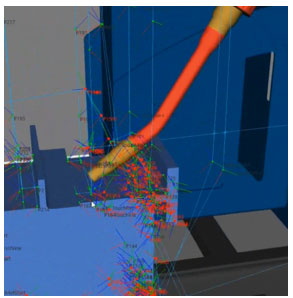 All the operator then has to do is select the part to be welded, load it onto the trestles or optional rotators, select the part-program to be run, hit cycle-start, and the Challenger then runs through the entire process, unattended. The operator only has to return to rotate the part at the end of its welding pass, or remove the part at the end of the cycle when using rotators
Note that the software is capable of detecting any weld-data embedded in the model, but often the detailer does not embed any weld data.
When deciding how to perform welds, the Challenger has 3 modes
Use the 3-D model data – the Challenger uses the embedded data
Use a global weld recipe – this user-defined and modifiable table will auto-generate all weld sizes based on the AWS (or equivalent) weld size for each attachment thickness.
Hybrid of 1&2. It will use any embedded data when detected, and when it doesn't find any, it will autogenerate the weld sizes where they are missing
Hybrid can be used to have you detailer only embed unusual welds, such as stitch welds. Then when the Hybrid model is selected it will use the AWS global weld recipe for all the welds where it doesn't find embedded data, and use the embedded data for the unusual welds.
* Cortex is AGT's proprietary software that analyzes the detailing model. Unlike CNC Drill Lines, Angle Lines, and Plate lines, Cortex will not work with DSTV files (.nc) or individual CAD files. Cortex always examines the entire project model in order to analyze the assemblies, so it is important to have a working version of the detailing software on site