The Ocean Avenger CNC Drill Line is typically sold with the following options: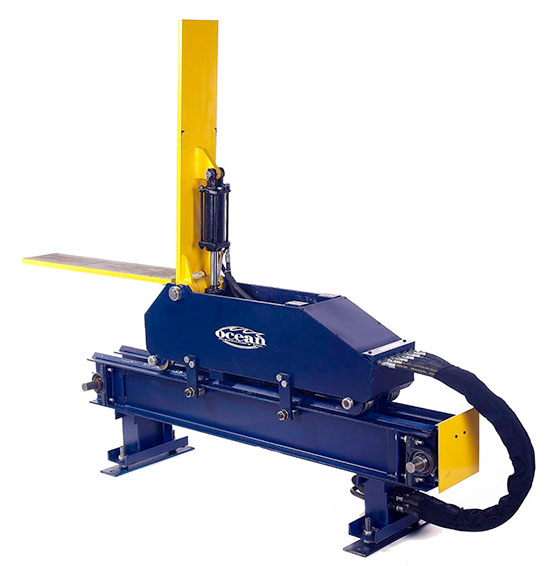 Ocean Flipper – Beam Rotator
The Ocean Flipper Beam Rotator is a simple and unique material handling component, that was originally designed to fit within the material support tables of the Ocean Avenger and other single-spindle drill lines, or other types of steel processing equipment where turning and positioning of profiles is required.
The Flipper reduces the demand on the overhead cranes, leaving this valuable resource free to move other items while the Flipper rotates beams on the Avenger. >>MORE ABOUT THE FLIPPER
Ocean Rejuvenator Drill Grinder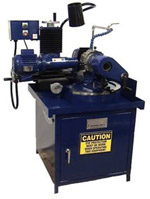 The Ocean Rejuvenator Drill Grinder is the industry standard for sharpening twist drill bits. Ocean Machinery's Penetrator twist drill bits have a standard length of 6″ (150mm) of fluted (working) length. When drilling typical 1/2″ (12mm) thickness, most drill bits will give in excess of 500 holes per sharpening, and when using the Ocean Rejuvenator to sharpen the drills, most customers achieve somewhere between 100 to 200 resharpenings. This means that a standard Penetrator can give you around 50,000 to 100,000 holes per drill
Drill Bits For Your Ocean Avenger
At Ocean Machinery we are committed to providing you as many options as possible with regard to drilling with your Ocean Avenger or any other CNC Beam Drill Line.
We stock a full range of drill bits and insert drills from several manufacturers, including
Ocean Penetrator Cobalt Drill Bits
Nachi Cobalt Twist Drill Bits
Allied Insert Drill Bits (spade drill bits)
If you are not sure whether to use Twist Drill bits or Insert Drill Bits on your Drill Line, please take a look at the comparison of Insert Drill Bits vs. Twist Drill Bits below.
Ocean Penetrator Cobalt Twist Drill Bits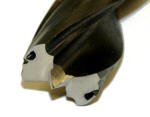 The Ocean Penetrator Cobalt Drill Bits arrive from the factory pre-sharpened to 175 degrees with a split point. We stock 7/16″ thru 2″ diameter drills, and extended length drills are available 9/16″ thru 1-1/16″. They feature:
Cobalt Steel – longer life – in our testing we regularly drill well over 500 holes before resharpening was required. This tool life dramatically reduces costs.
Pre-sharpened to 175 degrees with raised tip – this is the ideal recommended tip for structural steel. No need for pre-sharpening.
It requires only a single-stage drill grinding procedure. This simplifies the resharpening and saves resharpening time
Should yield more than 50,000 holes per drill bit
Faster Drilling feed rates – The Ocean Penetrator works best at 7.1 in/min of feed rate – almost 20% faster than regular twist drill bits. This results in faster drilling times.
Chipbreaker point – eliminates long stringy chips that clog swarf bins and fly all over the shop.
Almost eliminates grinding on the exit of the hole with properly sharpened drills. The removal of this non value added task dramatically reduces fabrication costs
Direct access to sophisticated technical support. Ocean Machinery provides you with direct access to the manufacturers' tech support hot-line.
Nachi Cobalt Twist Drill bits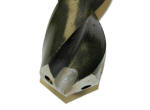 Prior to the introduction of the Ocean Penetrators, the Nachi Cobalt twist drill was possibly the most well known drill bit on the market. This bit has proven itself in thousands of fabrication shops around the world, and features:
Supplied with 118 Degree drill point angle. This drill must be pre-sharpened to 175 degrees prior to first use.
Standard length drill bit has 6″ of flute length
Only available up to 1-1/2″ diameter
No Extended length drills available
Available in 1/32″ and 1/64″ incremental sizes (call Ocean for stock on hand)
Should provide around 300 and 500 holes between sharpenings
Should yield 30,000 holes per drill bit
No grinding required on the exit of the hole with properly sharpened drills – dramatically reduces costs
Allied Insert Bits (Spade Bits)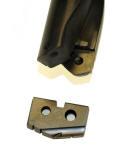 Insert Drill bits are also known as Spade Drill bits. Insert Drill Bits are well known to fabricators and offer the advantage of eliminating the need for a drill sharpening machine. They feature:
Throw away inserts (T/A) screw into special insert holders
Various drill point geometry and coatings are available
Metric sizes are available
Extended Lengths are available
Between 800 and 1,000 holes per disposable insert
No drill sharpening needed
Only available up 1-7/8″ diameter
Access to good local technical support
You will need to grind the exit of the hole as the insert drill bits are radiused at the tip – this leaves a significant burr that must be ground prior to bolting
Simple to change out inserts – Tips are priced individually but are sold in pairs
The Big debate – Insert Drill Bits Vs. Twist Drill Bits
We at Ocean Machinery are often asked by our customers what drill bits should they use – twist drill bits or insert bits? Our number one agenda is to ensure that our customers pursue the lowest cost per hole drilled, as this will make them more competitive and profitable. However it is important that they fully understand their options, Insert Drill Bit (Spade Drill Bit ) Advantages
Insert Drill Bits
Twist Drill Bits
Advantages
Savings – You avoid having to spend $10,000 on a drill grinder.
Savings – You do not need to grind the exit of the hole – save on non value added activity.
Convenience – They always have a perfectly ground structural point.
Savings – Twist drill bits cost less than 1/10th the cost of insert drill bits – see worked costing example below.
Convenience – Nobody has to learn the art of sharpening drill bits.
Convenience – It only takes a couple of hours to train an operator to be able to sharpen drill bits.
Simplicity – They can just be discarded when dull and they are cheap to replace – around $40 every 800 – 1000 holes.
Savings and Convenience – you can purchase twist drill bits from any vendor – you are not locked into a particular supplier.
Savings – No matter how badly you dull a drill point it can always be resharpened – in some cases you can also resharpen a broken drill bit
Disadvantages
Cost – Insert Drill require holders for each drill size and you require at least two holders of each size.
Inconvenience – You need to train an operator how to sharpen drills.
Cost – Insert bits definitely leave a burr on the exit of the hole, especially on lighter profiles and the fabricator must spend money on labor and consumables to grind the exit of the hole.
Cost – If an insert breaks, the tool holder will be damaged and will have to be replaced – replacing tool holders is expensive.
Cost – you have to purchase a $10,000 drill grinder.
Cost – If the Torx head holding the insert is stripped you have to replace the tool holder – replacing tool holders is expensive.
Cost – see worked costing example below.
Costing – Twist Drill Bits Vs. Insert Drill Bits
Let's compare Twist Drill Bits and Insert Drill bits in the real life fabrication situation. We will just look at one example – 13/16″ (22mm), which is typically the most commonly drilled hole diameter.
Lets First Look At The Cost Of Using Twist Drill Bits That Need To Be Resharpened
A. Twist Drill bits
13/16″ (18mm) Twist drill bit is typically $188.00
Need to have a minimum of two drill bits of each size so we can change out and re-sharpen one drill bit while the other one is drilling
Operator gets 300-500 holes per sharpening – let's use 400 to be conservative
Operator gets approximately 100-200 sharpening per drill bit – let's use 150 to be conservative
Therefore – 400 x 150 = 60,000 holes per drill bit
Two drill bits = 2 x $188 = $376 – provides 120,000 holes
A. Cost to drill 120,000 holes is $376 consumable cost, plus the $10,000 capital of the sharpener which gets amortized over the life of the machine – There are many Ocean Rejuvenators grinders in fabrication shops that are in excess of 10 years old that have repaid their owners many times over.
Now Lets Look At The Cost Of Using Insert Drill Bits
B. Insert Drill Bits
13/16″ holder is typically $198.00
13/16″ T/A drill insert is typically $36.00
Need to have a minimum of two holders of each size so we can change out the inserts while we are drilling with the other holder
Operator gets 800 – 1,000 holes per insert – let's use 800 to be conservative
Therefore we require 2 holders ($396) and 150 inserts ($5,400) to drill 120,000 holes
B. Cost to drill 120,000 holes is $396 + $5,400 = $5,796 (consumable cost)
Observation
The consumable cost is 15 TIMES more expensive using insert drill bits
The above example is true for all drill sizes, but the cost differential increases with the size of the drill bit.
This also does not take into account any replacement holders that need to be ordered when the holder is damaged when an insert breaks while drilling
The holder is no longer usable when the insert screws strip off or seize
And it does not take into account the cost of grinding the exit of the hole.
All of the above situations do occur in real life. Also note that as the drill diameter increases the cost of the holders can go up to as much as $800 each.
It doesn't take too much math to realize that in significantly less than one year you will have completely paid off the drill grinder from your savings in consumable costs and you will be well on your way to becoming a low cost producer.
So What Drill Bit Does Ocean Machinery Recommend For Beam Lines?
We believe that for now, based on current pricing from the various suppliers, the customer is better off with good quality Ocean Penetrator twist drill bits and a good quality sharpener.
Of course, training an operator to sharpen drill bits properly is important, and we do a thorough job during the installation of the Avenger. We have trained hundreds of operators who totally get it and are able to resharpen bits in less than a couple of minutes.
* Pricing comparison during Summer of 2014, drill and inserts prices are subject to change without notice. Consult Ocean Machinery for current pricing information. *
Morse Taper Reducers
The Ocean Avenger is supplied with a full set of three Morse taper reducers 1 x Mt4-MT3, 1 x MT4-MT2, and 1 x MT3-MT2. However it is advised to have additional reducers on hand to make tool changes faster and more productive
Positioning Magnets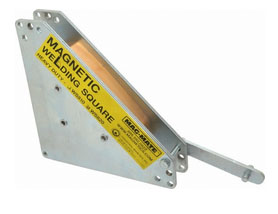 Ocean offers two sizes of positioning magnets to assist with drilling base plates and flat bar. Magnets are available in 8×8″ (200x200mm) and 4×4″ (100x100mm)
Magnetic Brush And Broom
Ocean Machinery's magnetic brush and broom help with the removal of chips from the machine and for sweeping up chips from the floor
Grippers
These drop-in serrated grippers help to secure base plates, flat bar, angle and other profiles that might have rounded edges that want to push away from the datum line
Jacobs Chuck Adaptor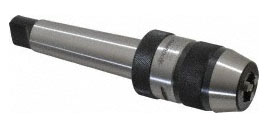 This Morse Taper chuck adaptor allows you to use standard parallel shank drill bits when drilling smaller diameters. It allows a maximum drill diameter of ?" (12mm) and a minimum diameter of 3/64″ (1mm)
Unist Coolant
Over the past decade the UNIST MQL lubricant system has become the dominant coolant system in the USA, and has become standard equipment on the Aveger FORTY, Avenger PLUS and Clipper. This minimum quantity lubricant is an oil based coolant that promotes longer tool life. It is non toxic.