The "Smart Spindle Technology" design of the Peddinghaus beam drill lines features the unique ability to automatically sense the material contact and break through after drilling of each hole.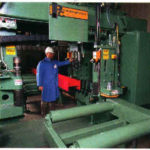 Some key Peddimat roller feed drive and measuring system advantages are:
Flexible material flow
Reduced maintenance
No loss of cycle time due to the requirement to clamp and un-clamp
Virtual instantaneous positioning of material
Length processing flexibility
Greater accuracy than systems with positioning or measuring wagons
Unparalleled productivity
Flexible Flow:
Since the Peddinghaus beam drill lines do not require a measuring carriage or wagon, the beam drill lines are not hampered by any obstructions on the infeed or outfeed conveyor. This means material can be loaded or unloaded from the End of the conveyor, Right side of the conveyor, and the Left side of the conveyor.
This provides for up to six different material flow possibilities for the loading and unloading of material through the beam drill line.
Reduced Maintenance:
Since all the material positioning and measuring is internal within the BDL beam drilling lines, the only moving parts used for positioning and measuring are the rolls within the Peddimat drive. It is not necessary to have a measuring carriage extending into the hostile shop environment complete with its trailing wire, cables, hoses, etc.
The BDL beam drilling lines incorporate roller clamps on both the horizontal and vertical planes. This design eliminates the need to clamp and UN-clamp the material between each positioning move in the length axi.
No Time Loss for Clamping and Un-clamping Between the Drilling of Holes:
Since the BDL beam drilling lines utilize the Peddimat Roller Feed Drive and measuring System, there is no time loss to accept the next section to be processed.
The conventional carriage system on competitive products must be returned to the start position (up to 80 feet or 25 meters) to accept the next section. As this is occurring, the Peddimat System has already started to process the next member.