Description
Peddinghaus Corporation has been the major manufacturer of beam drill line in the US market for the past 20 years, and has more experience in beam drilling lines for structural steel than any firm in the world market! Simplicity, machine design, and productivity have led the Peddinghaus drill lines to become the industry standard of structural steel fabricators throughout the world with over 1,000 installations worldwide.During the initial development of the Peddinghaus beam drill lines, Peddinghaus engineers focused on using simplicity to reduce or eliminate the nonproductive functions of conventional beam drill lines.
30″ (760mm)
40″ (1000mm)
50″ (1250mm)
78″ (2000mm)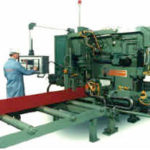 Four different models of beam drill lines are available for drilling beams of the following widths:
Call the Ocean Machinery sales team TODAY at (954) 956-3131 or Toll Free 1 (800) 286-3624 or fill out our online info request form for more information on PEDDINGHAUS BEAM DRILL LINE.