Ocean Machinery Mazda is dominating at Sonoma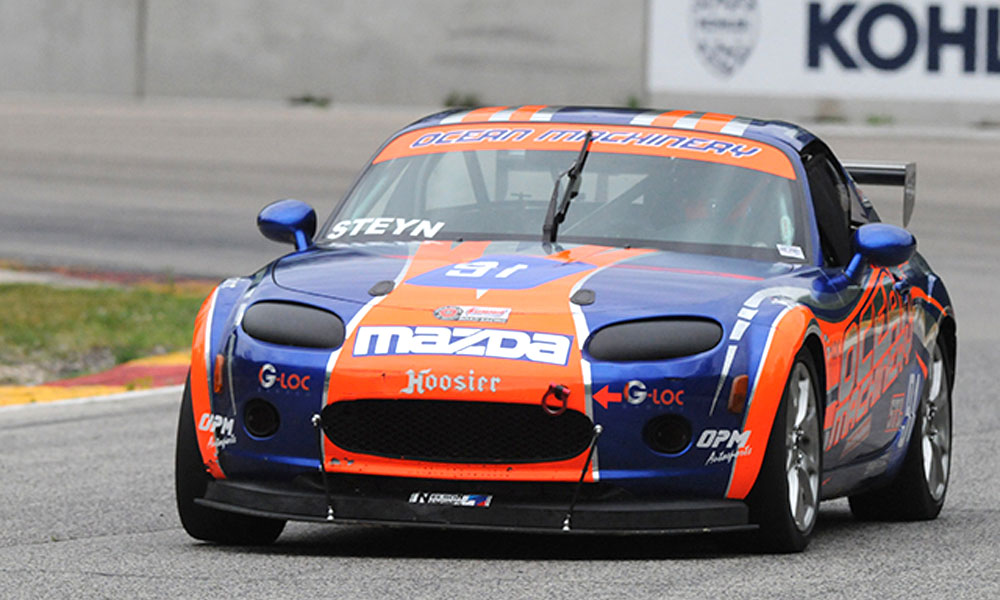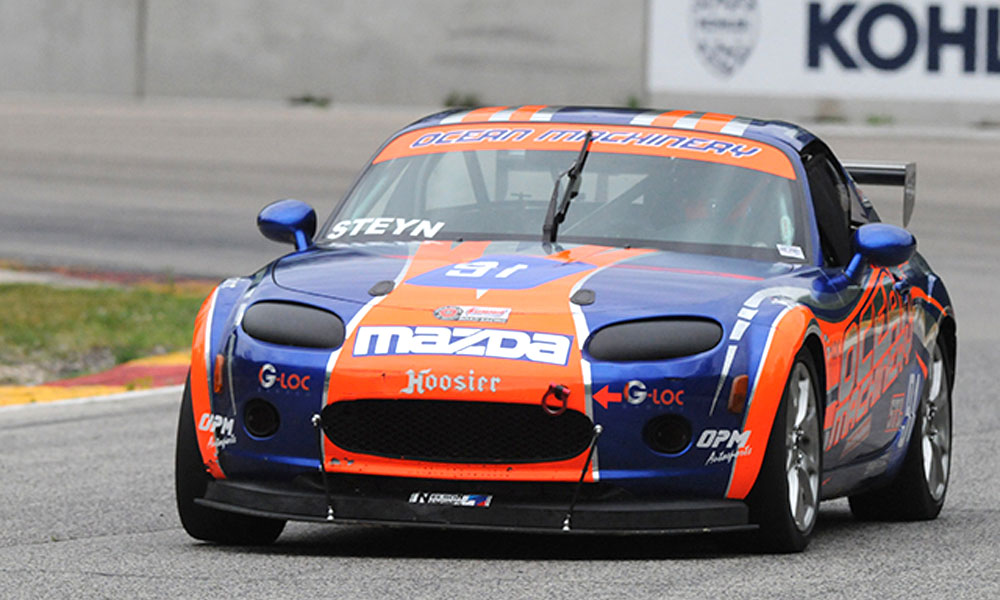 Ocean Machinery Mazda MX-5 dominating the STL class at Sonoma Raceway
UPDATE 10/19/18
After three rounds of qualifying, Ocean Machinery's Danny Steyn cemented his spot at the front of the Super Touring Light field and will start from pole for the 2018 SCCA Runoffs. Steyn's time of 1:49.1 in Q3 is more than 5 seconds under the current STL lap record and was almost a full second clear of his nearest competitor.
The front row is an all Mazda affair with Craig McHaffie in 2nd also in a Mazda MX-5. And while the front row was locked out by Mazda's, the 2nd row on the grid is an all Honda row with Cliff Ira in 3rd and Tim Auger in 4th, both in Acura Integra's, adding more fuel to the fire of the already contentious but friendly Mazda v.s Honda rivalry!
This will be Steyn's 7th Runoffs appearance and while he has made the podium in Spec Miata before, he has yet to finish a STL Runoffs title race.
The STL title race takes place on Sunday at 11:30PST and will be streamed live at www.scca.com/live.
UPDATE 10/18/18
Motor racing is filled with peaks and valleys, the Highest of Highs, the Lowest of Lows. At the 55th  running of the SCCA Runoffs, held at Sonoma Raceway this year, Ocean Machinery's VP dominated the test days, laying down times around the iconic track more than 4 seconds faster than the current lap record. But in the final session the motor of his Ocean Machinery Mazda MX-5 tightened up and threw a rod through the side of the block, in a catastrophic mechanical failure.
Fortunately, Steyn had a spare motor which his team installed overnight and they were ready on the grid on Tuesday for the first of three qualifying sessions. Unfortunately, in the previous session, a car had oiled up the racing line through the esses, and drivers had to be cautious through the speedy dry used to soak up the oil.
Steyn was able to lay down a time that was good enough for 2nd place, but significantly slower than his test day times.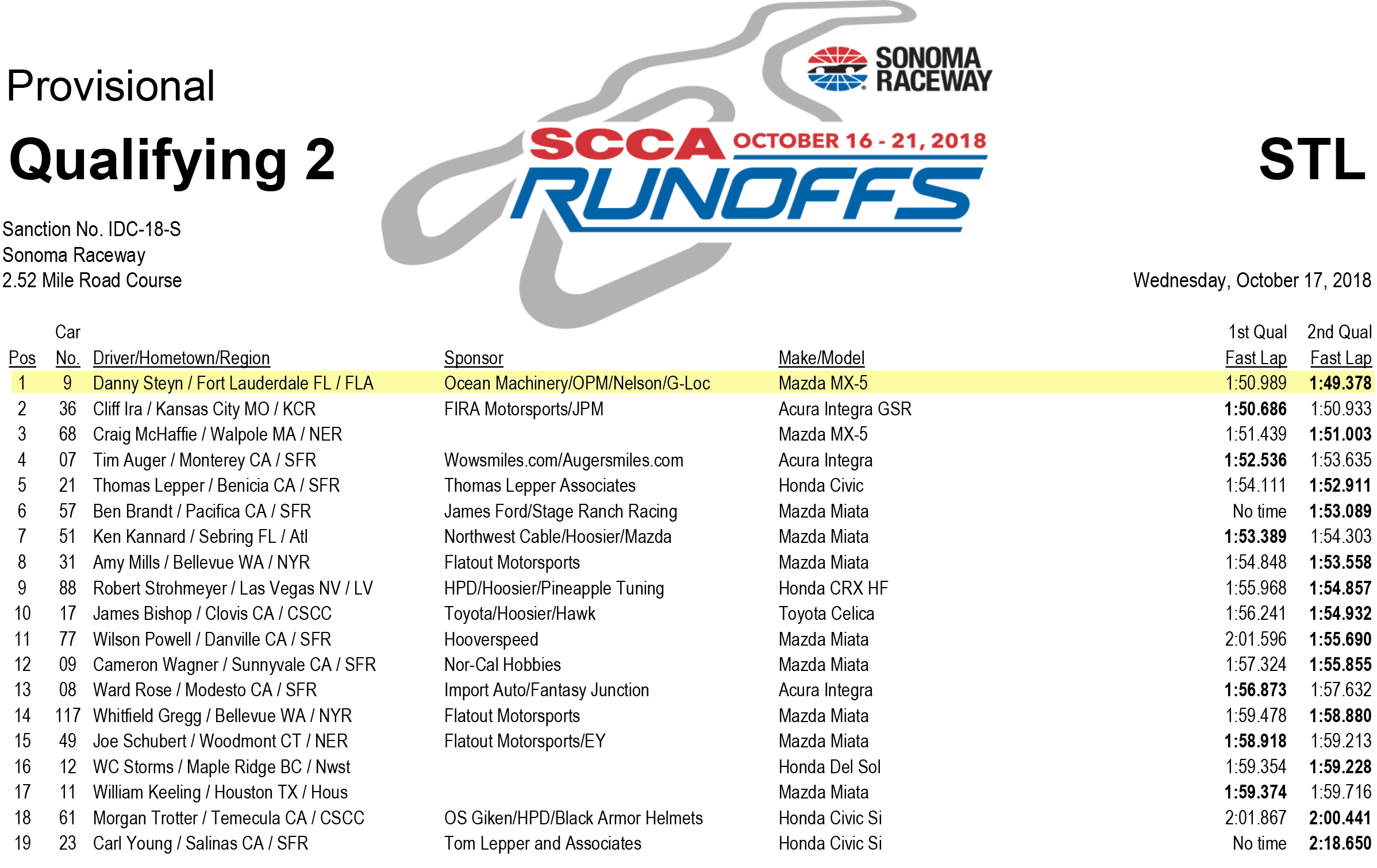 But on Wednesday's 2nd qualifying session, Steyn was up on the wheel and further improved his lap times, running more than 5 seconds under the lap record and setting provisional pole with a gap of 1.3 seconds to Cliff Ira in his Acura Integra and 1.7 seconds to Craig McHaffie also in a Mazda MX-5.
Today is Tire Rack Pole Day, the final qualifying sessions that will determine the starting grids for Saturday and Sunday's Runoffs races, which will also determine the Hoosier Super Tour Championships.
Steyn's qualifying session 3 takes place at 11:30PST
Follow along LIVE at scca.com/live